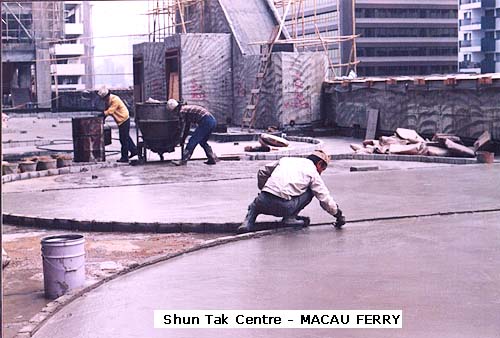 Properties of Tyical Foamcon Screeds
Ingredients
(approx)
Mass kg/m3
(Weight lbs/cu.ft)
Compressive Strengh N/mm2
Recommended Uses
"K" Value
W/m2 Deg. C
Protland Cement
1:1 and Sand
640 - 720
(40 - 45 )
0.50 - 1.2
Roof and floor insulation
0.14
Protland Cement
1:1 . 5 and Sand
880 - 1000
(55 - 60)
1.0 - 1.7
Roof and floor insulation
0.21
Protland Cement
1:2 . 5 and Sand
1200 - 1400
(70 - 85 )
2.5 - 4.5
Roof and floor insulation
0.33
( for reference only )
Foamcon screed is cellualr structure andsaving weight as a result for old or new building . To achieve this, consulthing engineers and architects are increasing use of Foamcon Lightweight concrete.

Foamcon screed is manfactured by aerating a mix of neat cement and gradedsand in speciallymade mixers and laid en-situ by our tranined labours.

Foamcon screed also offers excellent thermal and sound insulations.




"FOAMCON" LIGHTWEIGHT CONCRETE SCREEDING
GENERAL TECHNICAL DATE
Water Cement Ratio to be 0.8 - 10
Normal Sand or River Sand to be used for the Mix.
Cement Sand Ratio depends on the required Density.
| | | |
| --- | --- | --- |
| For Examples: | Cement | Sand |
| 640kg. per cu. m. | 400kgs. | 240kgs. |
| 1000kg. per cu. m. | 400kgs. | 600kgs. |
| 1400kg. per cu. m. | 400kgs. | 1000kgs. |
Dosage of "RHEOCELL 505" Foaming Agent shall be approx. 2-2.5 litre per cu. m. of Lightweight Concerte Screeding.
No special curing is required for the lightweight concrete but adequate protection to the setting material should be provided.
As the finished surface of the material is not very smooth, therefore, the bonding to concrete or other finish coatings should not be a problem.

Mixing Method: First, the foaming agent & water put in the mixer for well stir approx. 2 minutes. After the stable, fine-bubble foam produce, the cement & sand are added for further mixing to incorporate the foam evenly throughout the mix, the lightweight mortar is ready to pour.